The Jeep Wrangler was Built to be Capable
The Jeep Wrangler was Built to be Capable
Posted on July 14, 2020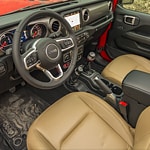 The Jeep Wrangler has long been the vehicle of choice among people who enjoy off-road adventures. The compact SUVs unique design makes it as appropriate for daily commutes as it is for embarking on backcountry getaways. Jeep is simply more than capable.
Our Aurora Chrysler Jeep vehicles have one of two engines. The six-cylinder 3.6-liter version comes with either a six-speed manual or an eight-speed automatic transmission and four-wheel drive. The other option is a four-cylinder 2.0-liter turbocharged engine. The engine comes with an eight-speed automatic transmission. When equipped with a towing package, the two-door Wrangler pulls up to 2,000 pounds. Four-door versions haul up to 3,500 pounds.
With more than 10 inches of ground clearance, the Jeep Wrangler easily maneuvers over rocks, logs, or other obstacles that might be encountered on the trail. Undercarriage skid plates protect the vehicle from damage. The heavy-duty suspension and axle articulation enable the SUV to maintain optimal traction despite uneven terrain features.