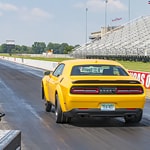 The Dodge Challenger is known for being one of the top muscle cars in the driving world.
The vehicle is put in such an impressive category due to its big body, high speeds, and gorgeous racing style design. In fact, drivers can have their Dodge Challenger custom painted with specific racing emblems. An example of these emblems includes the SRT Twin Racing Stripe and various SRT badges. Drivers can also include their own badges to be painted/placed on their vehicles.
The 20-inch wheels and the Brass Money rims indeed stand out on the Dodge Charger. The rims are painted in a way that they cannot be missed by anyone. You don't have to worry about being cold when you have a Dodge Charger. The remote start feature allows Drivers to start their Dodge Challenger without walking out of their front door. This means you can have the heat turned on and the car nice and warm before you ever get in it.