2021 Jeep Wrangler for sale in Aurora, Ontario
2021 Jeep Wrangler for sale at Aurora Chrysler
We're the reputable Aurora Chrysler driving change with the rich Wrangler inventory and sophisticated Chrysler Jeep dealership in Aurora, Ontario. We're are open to receive your request and deliver your model of choice within the shortest time possible.
Our award-winning services come extended to the surrounding areas of Vaughan and Brampton. We keep a stock of great cars sold at competitive prices and exceptional customer services that will give you a great smile and satisfaction. We've every reason that will convince you to choose us- Aurora's best Chrysler Jeep dealership.
Jeep Wrangler Customization
Most Jeep owners are particularly attracted to the Wrangler customization that creates a model that suits their hobby. The key recommendation that works towards building a great Wrangler is being flexible and considering a significant number of accessories.
Jeeps are infinitely customizable when you bring them home. You can customize it into an ultimate off-roader, cargo protection, unmatched off-roading style, and incredible off-road footing.
The 2021 Jeep Wrangler is a great machine that comes fitted with great technology and driver assistance features. Many people who have been searching for "Jeep Wrangler for sale near me" have releveled what they love in the current modern generation support features of Jeep Wrangler Trim options. Connect with us for a Jeep Wrangler test drive that can help you realize what you should be looking for in your new or used vehicle.
Hours
Monday

8:00am-6:00pm

Tuesday

8:00am-6:00pm

Wednesday

8:00am-6:00pm

Thursday

8:00am-6:00pm

Friday

8:00am-6:00pm

Saturday

10:00am-3:00pm

Sunday

Closed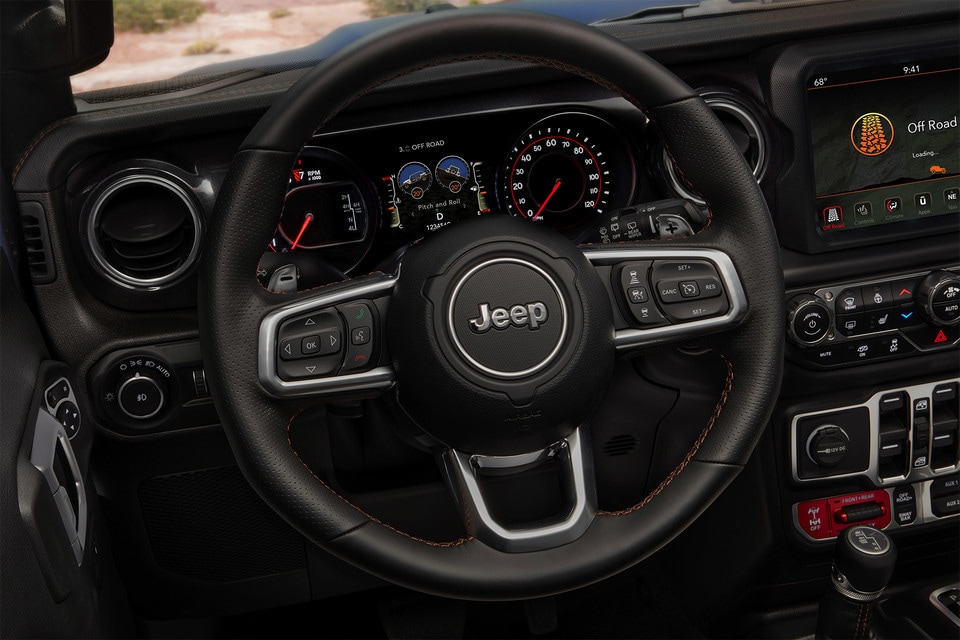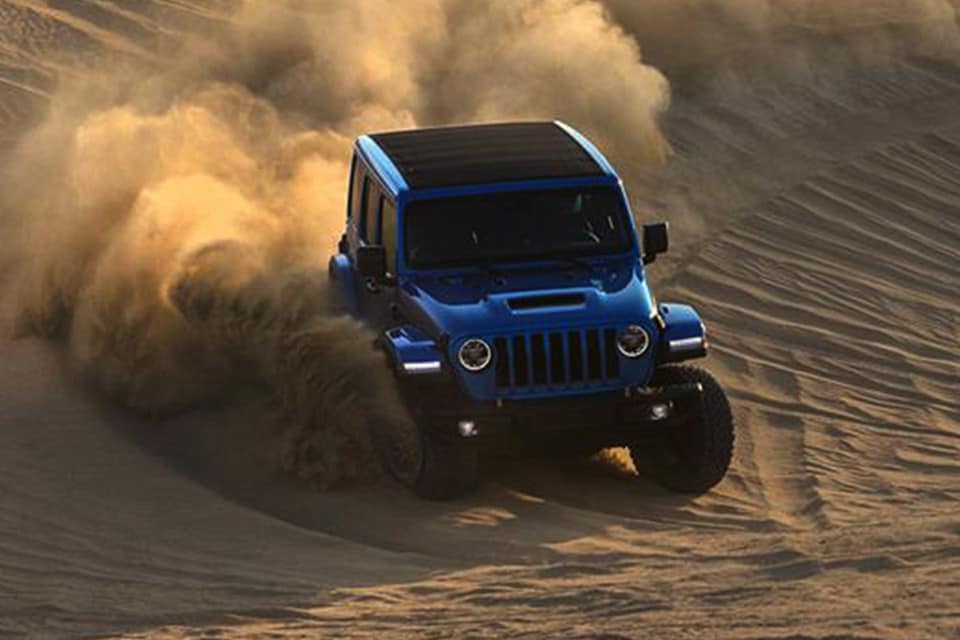 Jeep Wrangler Trim Options
The 2021 Jeep Wrangler is an original vehicle with an elevated exploration spirit that makes it go anywhere and do anything. The Jeep wrangler trims include:
Jeep Wrangler Sport
The Jeep Wrangler Sport has a V6 engine that produces 285 horsepower. The manual transmission six-speed powers the all-wheel-drive system. It's a reliable vehicle with excellent safety features.
The Jeep Wrangler Sport's standard features include three 12-volt outlets, cloth upholstery, a rear-view camera, manual door and window locking, a 5-inch touch screen, USB port, Bluetooth, push-button starter, and the eight-speaker audio system.
Jeep Wrangler Sport S
Jeep Wrangler Sport S has more than Wrangler Sport. The air conditioner, keyless entry, and power-controlled windows come incorporated into Jeep Wrangler Sport S, but they share the same engine and transmission. Therefore, this upgrade has slightly higher interior and exterior features than the Jeep Wrangler Sport lacks.
Jeep Wrangler Sahara
The necessity-oriented vehicle has large brakes and side steps. The other standard features include the premium cloth upholstery, automatic climate control system, Apple CarPlay, Android Auto, satellite radio, plenty of USB ports, and a 7-inch touch-screen display.
Jeep Wrangler Rubicon
The Jeep Wrangler Rubicon is an off-road grandmaster ranked among the best in the vast Jeep lineup. It offers additional Wrangler Sahara features, including front locking and rear differentials, rock rails, improved transfer case, sway bar, and the 4WD system. The comfort and convenience of the Jeep Wrangler Rubicon can be similar to the Wrangler Sahara.
Jeep Wrangler 4xe
Jeep Wrangler 4xe is for the 2021 Jeep model year. It's a hybrid Wrangler with a turbocharged 2.0 L four-cylinder engine combined with two electric motors to produce 470 pound-feet of torque and 375 horsepower.
The Interior and Exterior Features of Jeep Wrangler
The Jeep Wrangler's interior has a refreshing layout with plenty of sophisticated controls. The square windows and slender pillars reduce the blind spots. The driver's seat is upright; it has a good adjustment range to find the steering wheel's proper inclination and the driver's seat.
The cargo space depends on the type of Wrangler you choose to purchase. The two-door model can carry up to four passengers, while the Jeep Wrangler 4 door model carries five passengers.
Generally, the Jeep Wrangler interior is made durable and water-resistant. The infotainment, navigating, and Bluetooth system works exceptionally well.
The 2021 Jeep Wrangler exterior features include the 13.9-foot length for the two-door option and 15.7 feet for the four-door option. The curb weight is between 3,919 and 4,478 pounds, and Its exterior design has an iconic visual and style appeal making it the most incredible off-roading vehicle favoured by many fans.
The premium LED lights of the Jeep Wrangler with impressive style and visibility include fog lamps, reflector headlamps, and daytime tunning lumps. The taillamps are very vibrant to help in alerting the driver about the approaching car behind.
Contact Aurora Chrysler Today!
For more information about the 2021 Jeep Wrangler, please contact us. You're also welcome to apply for our finance application through our finance centre. Talk with one of our experienced sales associates about your financing options today!
2021 Jeep Wrangler Inventory in Aurora Chrysler